You want to produce amazing content, unleash your creativity, write blog posts that change the world, edit videos..but you have little or no time. Instead, you're probably copy-pasting text from one box to the other. Updating your website in ten different places with the same information. Painstakingly browsing the interwebs to find a few good articles to stick in your company newsletter. Hours. Wasted.
No more! There are ways to simplify the content creation process on a tiny budget in most companies. And if you're a writer, then there are robots that will probably do your job soon. Read about that further down.
1. Content Ideation: quickly finding great ideas that can be commissioned
You need ideas in order to successfully keep your content platform or newsletter current with relevant and interesting pieces. Lots of them. Here is one simple way of capturing ideas in a structured way:
Set up a Slack channel where anyone with access can simply post a link to an interesting article that might inspire your own content.
Connect the article data from that Slack channel to a spreadsheet via a Zapier integration. You need to define a trigger that sends an article from Slack to your spreadsheet, for example by staring them.
Write the elevator pitch along with the Slack link. Why are you posting this?
Set up weekly or bi-weekly editorial meetings and go through each idea in the spreadsheet. Decide what to do with them. Commission as a blog post? Repost as a third-party post? Create a video or a podcast episode based on it? Do something visual? Not do anything?
Create an account with Feedly, an RSS-reader. It has a free version that lets you find content sources related to whatever industry you're in, and automatically add them to your feeds, so that you don't need to manually check every single source to find inspiration.
If you don't use Slack, you can set up a simple online form where people can enter their ideas, a link and their elevator pitch. This form should also be connected to a spreadsheet.
2. Content Creation: do you want to be a thought leader or use natural language processing?
For straight-forward stories that don't require an analysis, publishers and companies are already turning to AI writers. Some newsrooms are using machine learning tools to do some of the news gathering tasks traditionally done by humans. Forbes have an advanced Content Management System called Bertie, The Washington Post have Heliograf and Bloomberg have developed their Cyborg.
San Francisco-based company OpenAi have trained an unsupervised language model to produce paragraphs of text. Like this one here below.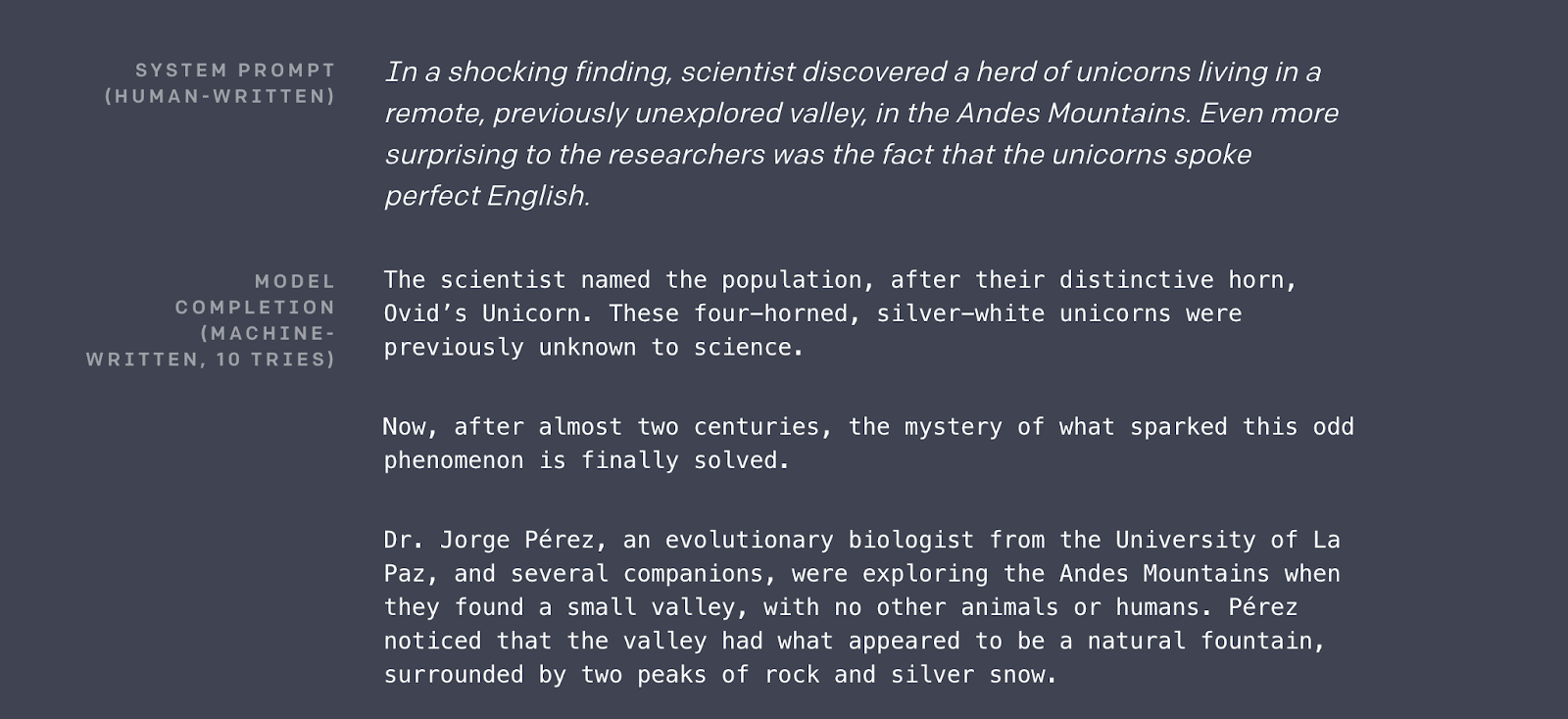 Technology has come a long way, and if you want to produce short news snippets that are straight-forward, or fill your blog with content, it is definitely worth exploring the options of natural language processing.
If you want to become a thought leader and create more high quality content, then tools such as BuzzSumo, Crowdtangle and HeadlineAnalyzer will help you refine and target your content thanks to data from thousands of websites and influencers.
If you don't have your own writers at hand, consider paying freelance journalists to help you create at least a backlog of content. You can find cheap and good writers via UpWork or Facebook groups. You should also comb through your network of clients, contacts and former employees. Ask them to write an article for your platform, give them a specific topic and angle or ask them to pitch ideas to you. Some might do this for free, and you are on your way to building your own army of content contributors.
3. Content Curation: syndicate and repost
Your blog will grow only if it follows these four basic criteria;
It features interesting content
It is regularly updated with fresh content
Written posts are SEO-optimized
Content is promoted on social media
The first two criteria are the most time-consuming. Unless you have a big content marketing budget and lots of writers and video editors on your team, it's not going to be easy to generate only interesting content and produce lots of it, all the time.
That's where content curation and syndication come in as your knights in shining armor. Keep your website dynamic and fresh by automatically pulling in carefully curated articles from third-party sources.Only display the headline, featured image, and the meta description, linking to the original article, to not violate copyright. Once your developers have installed this, you can either set to auto-publish every time your third-party source publishes something new, or you can moderate the content in the CMS before publishing it.
You can take it one step further by identifying possible content partners. Reach out to them and set up a content syndication agreement: we get yours, and you get ours. Aspire to have agreements in place to fully repost—copy-paste basically—their articles or videos on your platform, linking back to their website, and vice versa. As long as the canonical URL is set correctly, you will gain more content without having to write it, and publish your content more widely on respected platforms.
4. Content Promotion: Make social media scheduling as easy as possible
I have seen many teams still use elaborate spreadsheets or project management tools to schedule, update and keep track of any social media activity. Whilst it's good to have a general content plan around any campaign, event, or launch, I wouldn't recommend it for your general social media scheduling.
Don't worry too much around timing – even if you publish something at 9am your time to Facebook, you don't know when it will reach the feeds of your audiences. Same thing with Twitter and LinkedIn. Instead, keep the social engines fed, dig around your archives, and re-promote content that did well, or link to third-party sources. On social media, it matters more to be relevant and to build your unique brand voice and message, than being strict about publishing only your own stuff.
Use scheduling and analytics tools like Buffer and HootSuite, that both have free versions. You can even set up a feed between your CMS or website to pull in the metadata of your published content automatically, so that you can manage social posts solely from your tools, rather than having to copy-paste.
And abandon your scheduling spreadsheet!
5. Content Team: Tight workflows and processes
Apart from tools, you also need to have a clearly defined workflow in your content team. By streamlining the process of ideation, creation, curation, and promotion, you will save significant amounts of time. Don't have too many cooks in the kitchen, set clear goals and deadlines, and aim to have regular meetings and a regular content output.
Building in as many integrations, automated workflows, and streamlined processes will save you and your team a lot of time when creating content for your platform. Everytime you sit with a repetitive task of copy-pasting, start searching for tools that could do that for you.
It will give you quality time to focus on growing your brand and your audience instead, generating more leads, more readers, and more fans.