The pandemic prompted new strategies to capture audience attention. Many marketers shifted to digital marketing and online selling. In addition, many said they adopted a more empathetic tone toward their audiences. Small teams are still the norm. Most organizations have small (or one-person) marketing/content marketing teams serving the entire organization (58%).
Outsourcing budgets appear to have freed up a bit. The biggest outsourcing challenge was finding partners with topical expertise (65%) — a compelling reason to hire employees who can learn the company's products and market and to hold on tightly to quality freelancers.
Virtual events and webinars produced the best results. Respondents said that among the content types they use, virtual events/webinars/online courses produced the best results in the last 12 months (58%).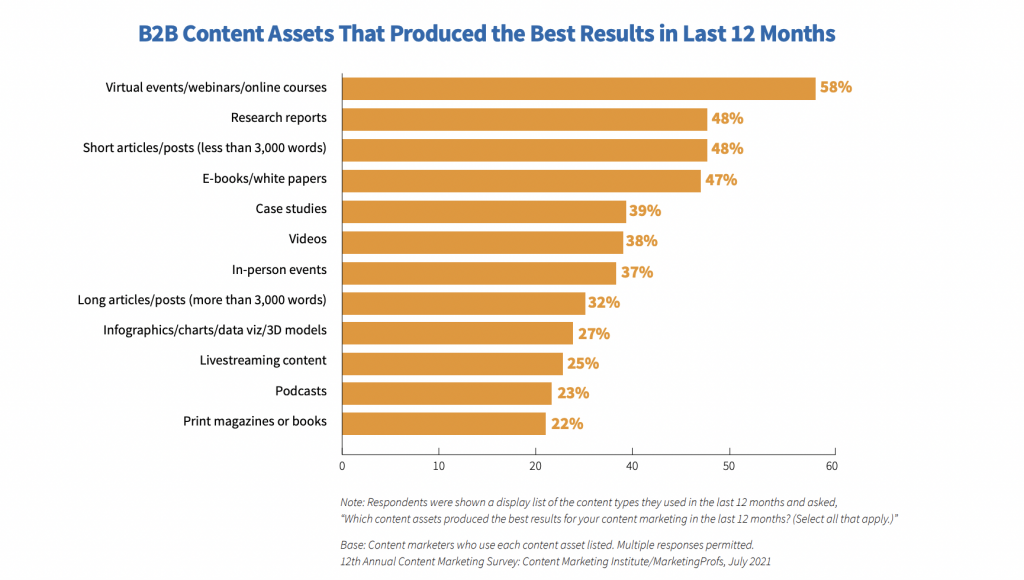 Most marketers successfully used content marketing to create brand awareness (80%), build credibility/trust (75%), and educate audiences (70%). Marketers spent more on paid content promotion. Of those who used paid content promotion, 77% used social media advertising/promoted posts. The top two platforms where most spending went to were LinkedIn (75%) and Facebook (69%). 
Content marketing budgets grew — and are expected to continue to grow. 45% respondents said their 2021 content marketing budget increased over 2020. Furthermore, 66% expected their 2022 content marketing budget to increase over their 2021 budget.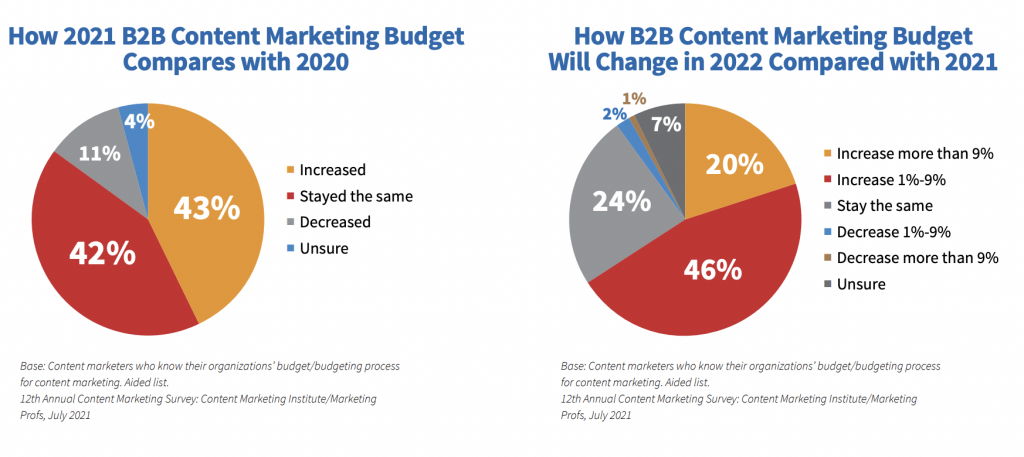 Investment in events is expected to increase in 2022. 52% said they expected to increase investment in in-person events, 39% in hybrid events, and 33% in digital events. In addition to spending more on events, marketers expect more investment in videos (69%), events (61%), owned-media assets (57%), and paid media (55%).
While communication is still a challenge (38%), creating content that appeals to multi-level roles within the target audience (44%) and accessing subject matter experts to create content (42%) are now the top two challenges. Why? It could be because more marketers are using content collaboration tools (73%). In addition, there have been numerous job changes over the last 18 months.