Survey respondents agree that customer journeys have changed, and the move to digital has been very significant. They think this pace will persist for the foreseeable future.
This does not mean that the B2B life will be lived online entirely—the challenge will now be to not only retain the best digital experience (DX) but integrate it successfully across the whole customer experience, wherever the customer chooses to be. 
Most practitioners think they are keeping up with customer expectations. However, as recent global developments have illustrated how quickly circumstances can change, continually evolving customer expectations in 2022 and beyond will prove almost as disruptive. Saying 'But it's not B2C' will fall on deaf ears because executives' experiences in their personal lives inform those in their professional ones and that sets the bar high.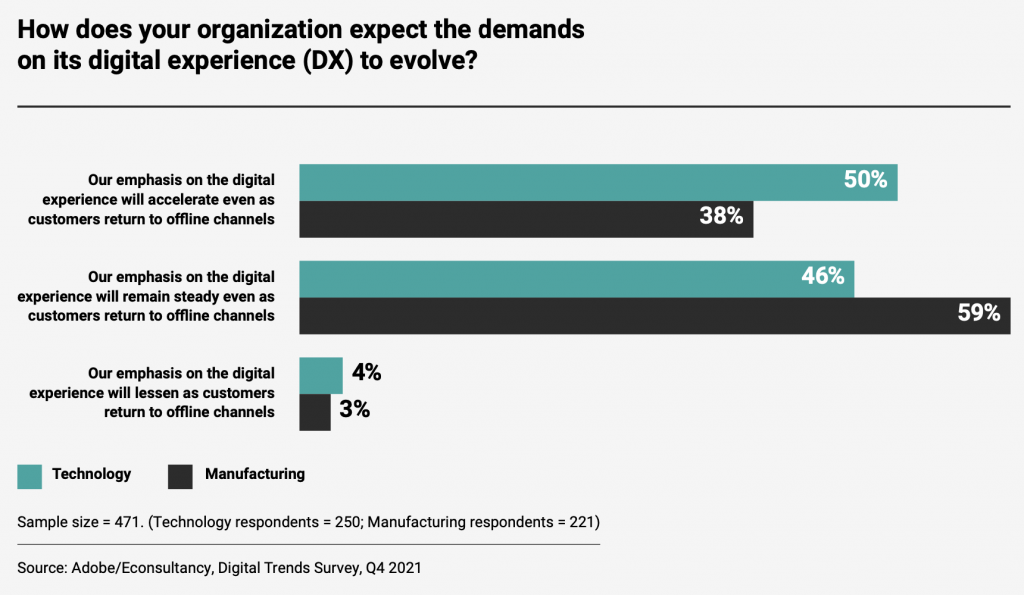 The traditional B2B experience has been offline, in-depth, and highly personal but this doesn't scale, nor does it translate to modern DX. So, senior B2B executives are gathering data and gaining insights as a top technology priority for 2022. They use data to drive it into content production, their next highest priority. For content quality and innovation will matter. 
B2B executives are starting to focus on automation to bring more scale and agility. They believe it requires preparation and so it can't be simply imposed on employees. Doing enough groundwork before implementing an automation solution is key.