The growing need for self-service features highlights the main disconnect between what buyers want and how sellers sell.
Every technology vendor must adapt to the attitudes of today's B2B customers. Their consumer expectations follow them to the workplace—they value their personal time and don't have patience for redundant inconveniences.
A recent report by the software review platform TrustRadius surveyed B2B technology buyers. Even though the research focused on technology buyers, most of the findings hold true for all types of B2B buyers, especially those that involve high-consideration purchases. Every B2B marketer, regardless of the market they are in, should familiarise themselves with the report's takeaways.
According to the survey, buyers are more committed than ever to self-serve during their buying process. Traditionally, it has been the preference of millennials and Gen Zers but it turns out that older decision-makers are currently following suit. 
The use of vendor-provided resources by technology buyers shows a decline. The only exceptions are product demos and vendor blogs. On the other hand, third-party resources gained in popularity. Ergo, the B2B buyer has a growing preference for independent information when researching new solutions.
The typical B2B buying journey starts for most people with their own research: checking review sites (29%), reaching out to a sales rep (24%), searching on Google (18%), contacting an acquaintance (14%), researching advice by analyst firms (7%) or consultants (4%).
The desire to self-serve manifests itself in various ways: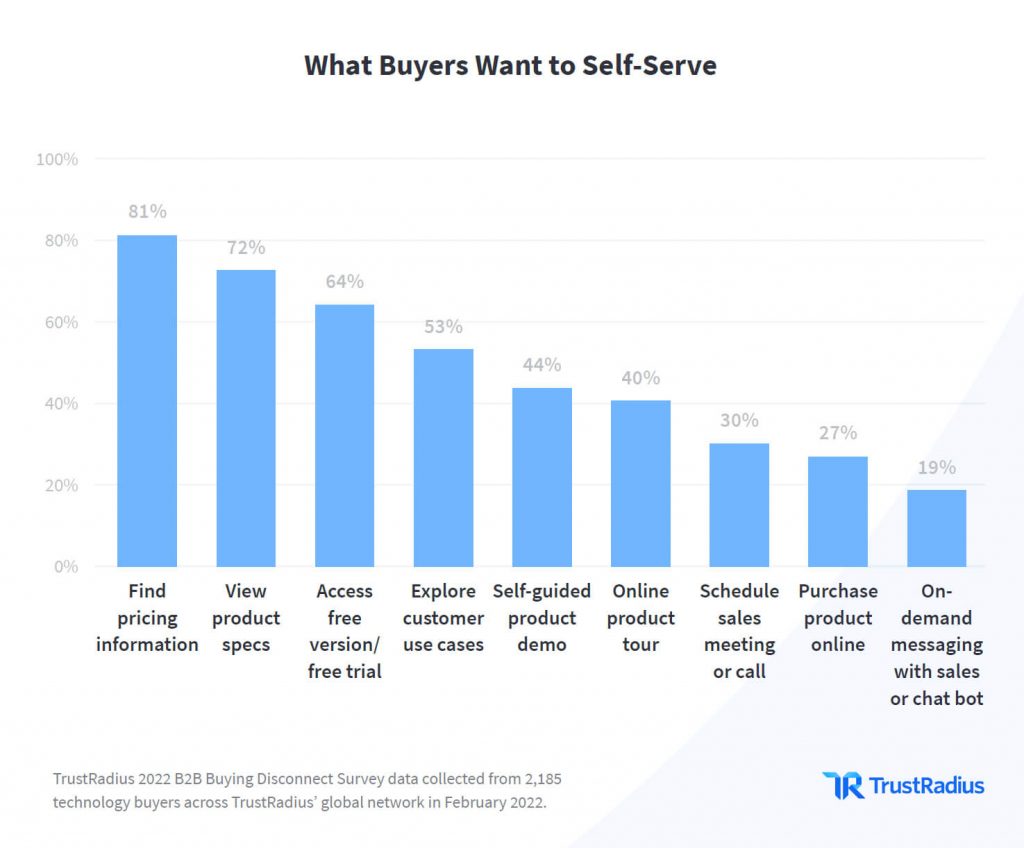 Buyers primarily expect easy access to basic information—pricing, product specs, customer testimonials—and to be able to gain first-hand experience with a product—demos/online tours—before purchasing. In fact, pricing is the top expectation for self-service—as many as 81% of buyers want to find this information on their own.
The top 5 resources that participants find most impactful for them when purchasing tech products are:
Product demos (71%),

Free trial/account (67%),

Their own prior experience (67%),

User reviews (59%),

Consultant recommendation (52%).
The report goes as far as to show which factors deter people from buying B2B technology. The most hated are, unsurprisingly, cold calls (64%). Consistently with the other findings, the lack of pricing information follows closely (57%). Other reasons include unclear product explanation, asking for contact details when a demo/trial request is made, sending sales-focused emails, and lack of customer stories.
This research demonstrates that B2B marketers have to adapt to the increasing role of self-service in the customer journey. Companies can use this model of selling to their advantage by making product research as easy as possible for prospects. This should position them higher than competitors stuck in traditional practices like cold prospecting and 'salesy' messages popping out from every corner of their websites.