A both analogue and digital campaign showcases how photography and illustration can leap off the page on premium uncoated design paper.
The passionate papermakers at Mondi have first developed PERGRAPHICA® in 2015, by investing energy and expertise to nurture a portfolio with distinctive shades and surfaces, which give contrast and depth to creative designs.
To mark an extension of the PERGRAPHICA® assortment (adding more than 30 colours to a range that was mostly white and black), Mondi has creatively brought to life its campaign Catching Feels, developed in a unique digital to analogue partnership with Adobe Stock.
Print adds a physical dimension to beautiful digital creations: evoking an additional human sense – touch. Choosing the right paper is critical to making sure digital creativity shines at its best in an analogue world.
It also happens that 'catching feels' means falling for someone romantically in popular youth culture; so the play on words is a reference to artists capturing feelings and emotions through their work and is the perfect way to describe the beautiful feels and finishes of the PERGRAPHICA® papers.
The emotive and striking visuals within the limited-edition book are by six professional photographers and artists—contributors to the Adobe Stock Premium Collection, the premium stock image library which enhances creative projects and empowers creatives.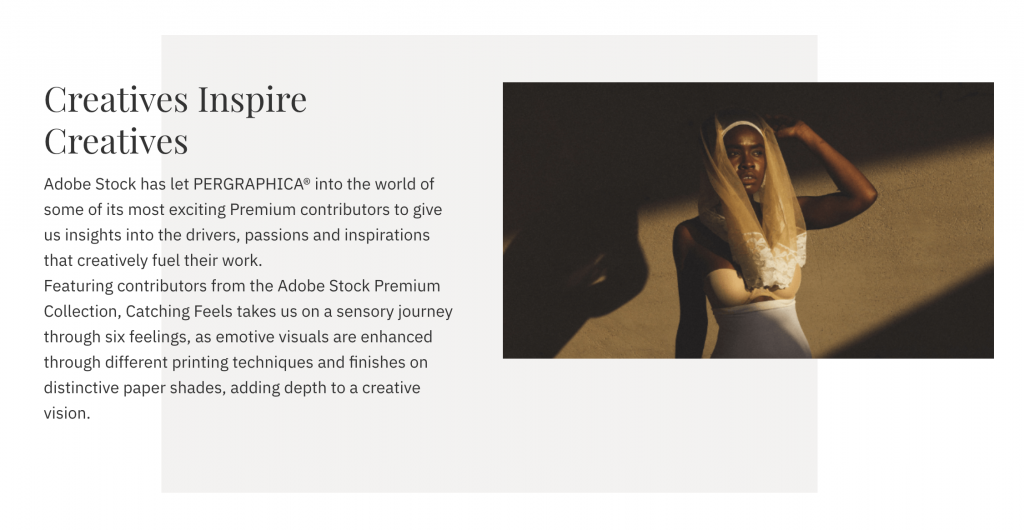 Each was chosen for their ability to bring a different feeling to life, as they offer insights into the drivers, passions, and inspirations that creatively fuel their work.
The challenge of creating Catching Feels, the lookbook, did not end with the print quality of the photos. The final book would feature 300 images, across 107 pages, 53 with special finishing techniques such as foils and metallic inks, using 16 paper types, and four different printing technologies.
Also, a QR code was used on the headline page and directed readers to a webpage that showcases each artist's chapter. Catching Feels was ready for launch, with digital and analogue assets covering the full funnel from awareness to conversion, including press ads, banners, social posts, podcasts, sales enablement guides, sales sheets, webinars, flyers, postcards, mailers, notebooks, feelbooks, emails, etc.
Millions of people reached on Instagram, there were hundreds of thousands of views on YouTube and double-digit increases in brand awareness as well as lead generation.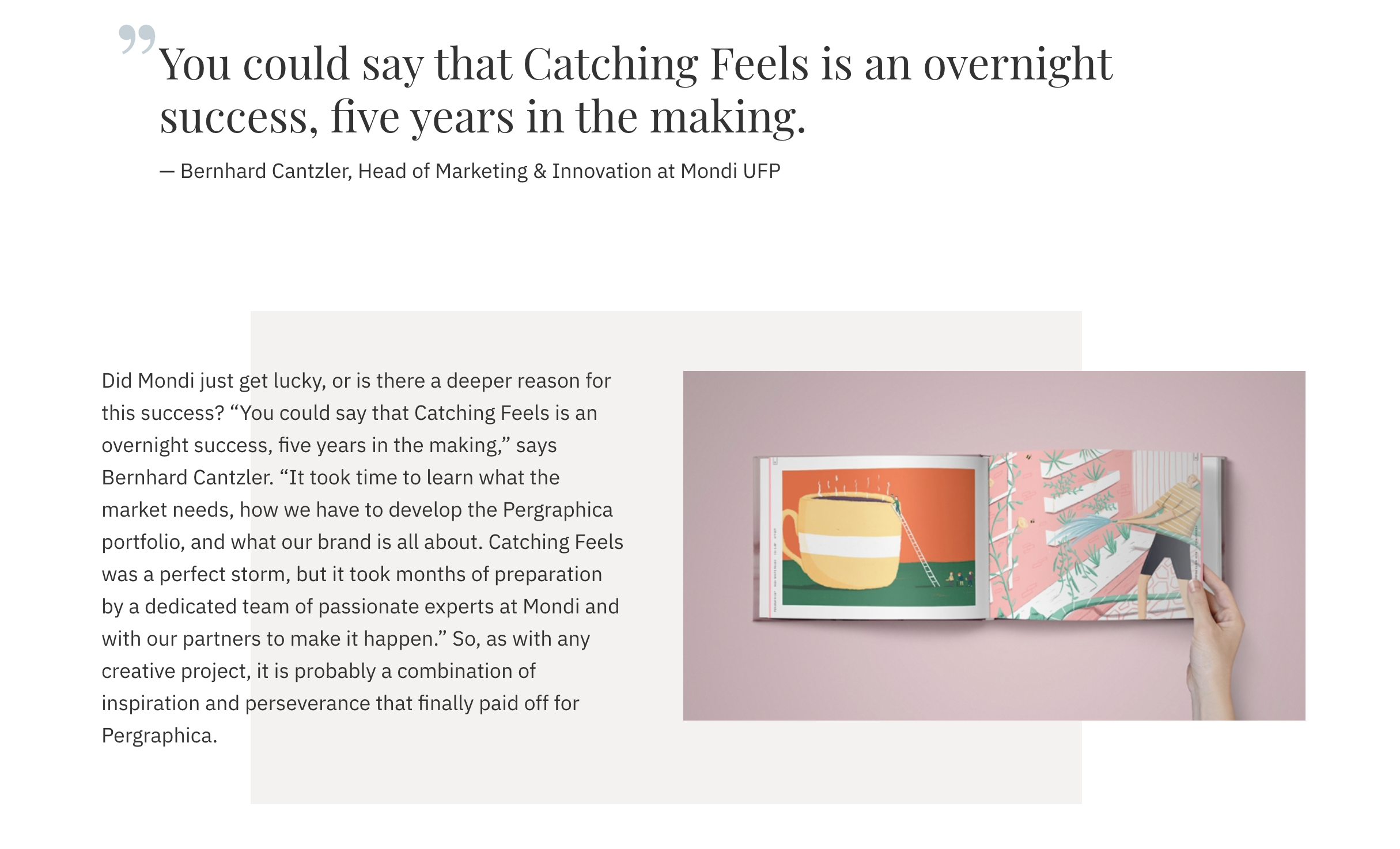 The Adobe team was happy to use Catching Feels as a success story of their own. They not only created an extensive article on their business blog, but also invited the Mondi team to tell their story on Adobe's biggest digital conference, Adobe Max. In turn, Mondi invited Adobe experts to share their knowledge on design for print and colour management in their webinars.
Why it's important: Mondi went far beyond just releasing a new lookbook, focusing on the full experience, across digital and analogue channels, well integrated around a central message.