Looking back at 2022 and the topics we wrote about made us wonder: What is there that is still relevant as the year ends and is worth re-emphasising? In this post, we once again bring to the surface the ideas that are both important and likely to stand the test of time.
Gather 'round the bonfire, tale-tellers
The B2B marketing industry has been heavily focused on generating leads and meeting short-term demand from buyers over the past 10 years. While lead generation is important, research indicates that building a strong brand can be even more beneficial. In order to build a successful B2B brand, it's important to invest in high-quality creative work. If you need an example, think of Disney stories.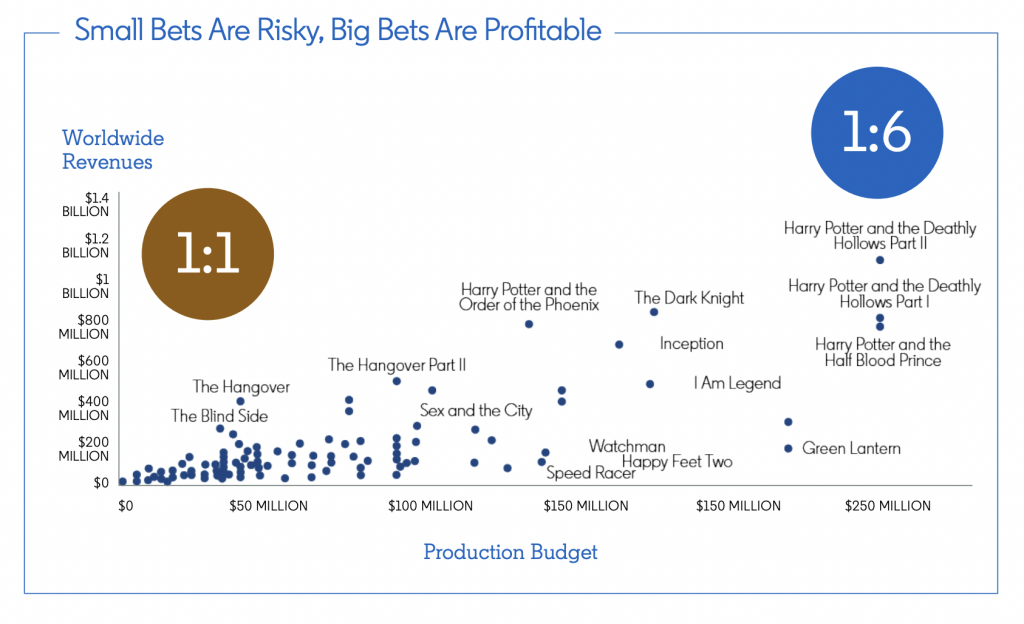 In order for B2B brands to succeed in the long term, it's important to use emotional appeal to connect with buyers. However, B2B marketing often focuses on short-term, rational campaigns that are designed to drive immediate revenue. This approach often lacks the use of high-quality creative work. To avoid being a boring business, B2B marketers should take a page from Disney's book and use storytelling to engage and inspire their audiences.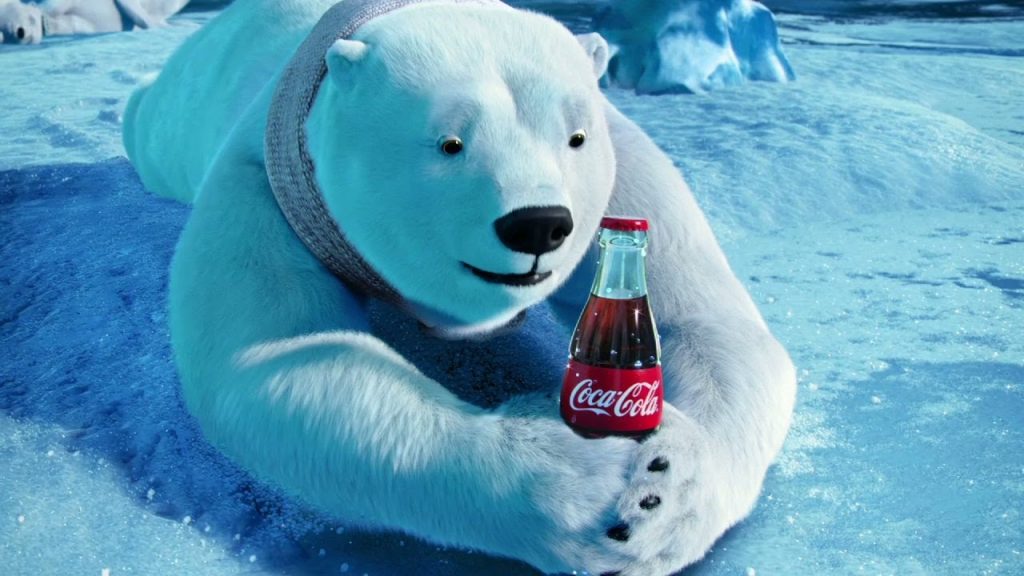 However, research has shown that buyers don't make purchasing decisions based on logic alone. 
Instead, they often want products that are good enough and come to mind easily, often as a result of memorable marketing stories. The typical B2B buyer will default to the brand they already know. 
The brand-first approach means that instead of focusing on product features, B2B marketers should develop high-quality creative assets with unique stories and characters.
Such facets can be found in the following examples of marketing campaigns that we covered on our blog this year.
The American Express campaign is a series of advertisements that tell stories about small business owners facing challenges during the pandemic. The stories, although entirely fictional, are relatable to many small business owners and highlight the struggles they may face. The campaign features a cast of characters, including a chef, a duo of architects, a food delivery service owner and a veterinarian. The humorous storytelling helps to portray American Express as a supportive and friendly company for small and medium-sized businesses.
Note that you don't even have to invent new stories. Repurposing existing ones works equally well.
The commerce thrives on the Squarespace platform, of course, but that's only a detail. What's important is that the company brought a whole new character to life and created an imaginative and unique world for her to inhabit.
How is this going to be relevant in 2023?
The B2B Institute predicts that B2B marketers will be shifting their focus to building brands over the entire decade leading up to 2030. The next year should theoretically bring us closer to this goal; however, there are some challenges awaiting. Concerns about inflation, higher interest rates, and the potential for a recession may cause marketers to minimize risk. We believe that next year marketers will be focusing on time-tested, short-term activities that yield quick results, rather than spending on long-term brand building efforts. It's a pity because 2023 is being handed on a plate by 2022 many topics on a plate by 2022 that are ripe for storytelling. Think of remote teams, quiet quitting, supply chain, energy and food shortages, mental health, AR vs. the Metaverse, electric vehicles, biomaterials, authenticity ('being real'), and many more themes that are up for grabs.
Broader consumer horizons
We find Meta's culture predictions for 2022 (which we wrote about here) quite on point. Of the four major trends identified by Meta at the year's start, we were especially able to observe the one about the shift in consumer values.
The following were the most important insights:
People are increasingly supporting businesses close to home and having a global outlook at the same time, with Millennials and Gen Z in particular feeling strongly about being global citizens.

Shoppers are increasingly expecting fast delivery, blurring online and offline shopping boundaries, and quick access to websites. With the rise of retail apps, curbside pickup, and QR code scanning, consumers are more open to new shopping experiences. This is further underscored by shoppable surfaces, in-store live shopping, one-click mobile payments, layaway plans, flexible financing, free shipping and same-day delivery. Shopping has become effortless, allowing people to make impulse purchases quickly and easily.
People are increasingly striving to take care of their mental and physical health. The pandemic has seen an increase in self-reflection, self-love and mindfulness, while alternative wellness approaches such as botanicals, acupuncture, meditation, energy healing, nature therapy and yoga are gaining popularity. People are embracing new omnidirectional fitness motivations, nontraditional healthcare and natural ingredients and giving back through volunteering or fundraising.

With more people growing concerned about climate change, there is increasing awareness of the need to reduce carbon emissions. This has led to more electric vehicles being purchased, as well as extended smartphone lifecycles, trade-ins, recycling and upcycling. There is also a trend of secondhand clothing being viewed as desirable, marking a move away from the traditional 'take, make and waste' model.
As we wrote in this article, Asian countries have adopted various new digital habits such as live shopping during the pandemic. Shopping behaviours are more focused on frictionless commerce and increasing adoption of technology-fueled lifestyles. And consumers will be increasingly influenced by their personal values and connection to local culture.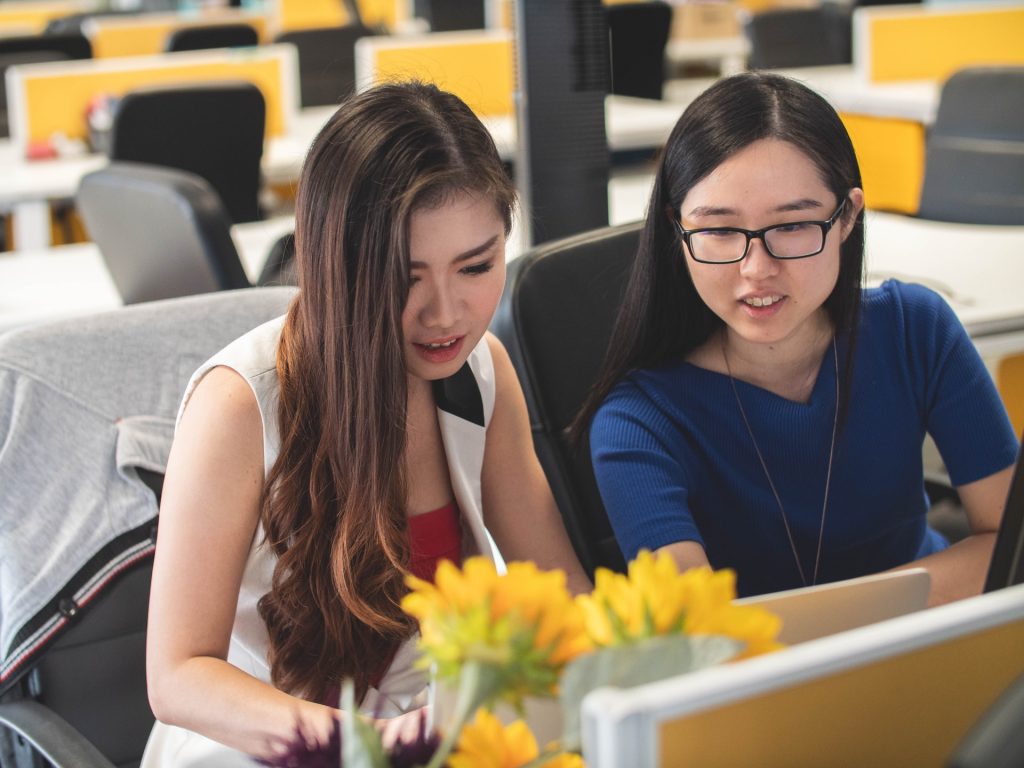 There is a cultural shift across APAC, with Chinese television series gaining popularity in Indonesia, K-pop being preferred over western pop, and Vietnamese musicians gaining recognition abroad. Thus, to be successful in Asia, brands need to demonstrate authenticity and culturally relevant connection, leveraging the local pop culture.
Reasons for this shift include wanting to protect themselves from disease and ailments, live longer, avoid preventable diseases and look and feel healthier, as well as being influenced by family/ friends/ news/ social media, re-evaluating their lifestyle, worrying about unvaccinated people, and rising healthcare costs.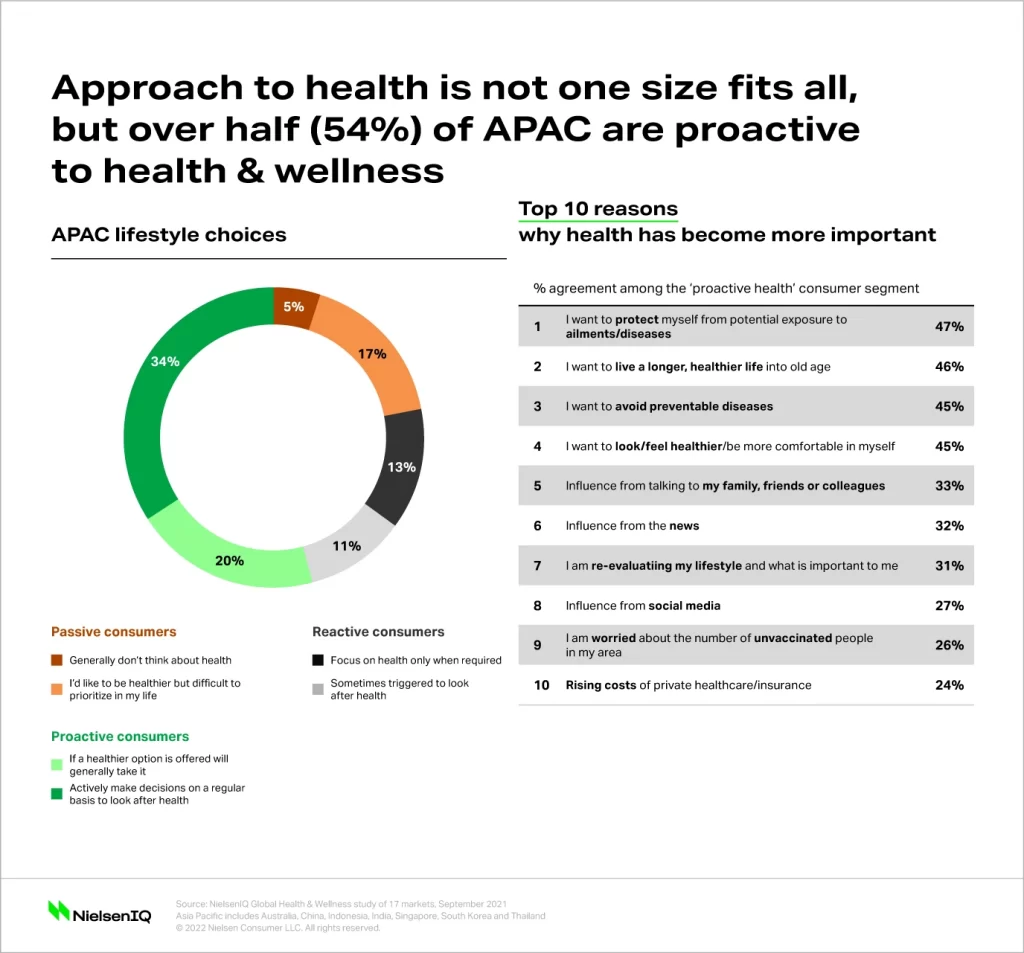 Premium prices are accepted if consumers get nutritional benefits, healthier options, strong hygiene/protection qualities, and sustainable products.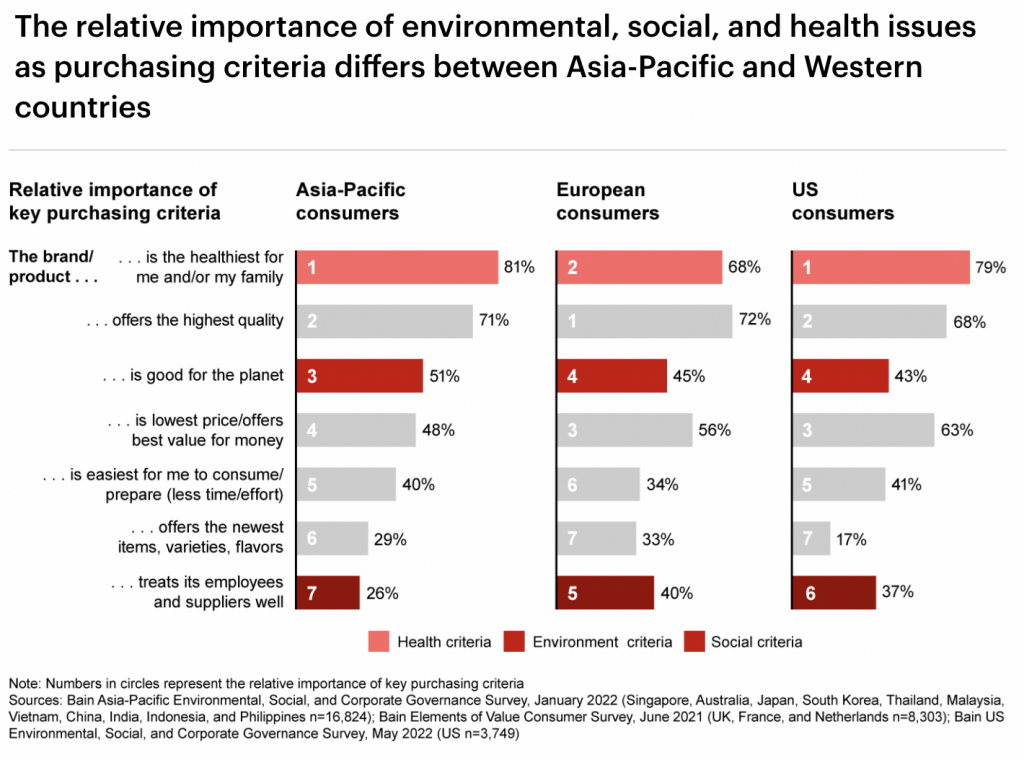 Moreover, consumers in the Asia-Pacific region are increasingly embracing sustainability. This includes things such as environmental and social issues, health benefits, high-quality products, and local sourcing. Health benefits are the primary purchasing criteria across the region, with five times more consumers citing 'the personal impact of environmental issues' than 'having a child' as motivators to buy sustainable products.
However, there is a 'say-do gap', where people want to buy sustainable products but don't due to lack of information, distrust of brand claims, lack of variety in products and gaps in availability. In order to reach the 'sustainability tipping point', companies should learn what this booming consumer segment wants and how best to serve it, in order to close the gap and benefit from customer loyalty.
How is this going to be relevant in 2023?
We expect most of these trends to continue into the near future. People will remain supportive of businesses close to home, while also having a global outlook. Shopping will become increasingly effortless. There will be a continued focus on mental and physical health, with alternative wellness approaches gaining in popularity. And people will keep wanting to buy sustainable products but will still find it sometimes difficult to do so because brands are unlikely to quickly fix their problems.